Perinatal refers to the timeframe spanning pregnancy through the first year postpartum. During this time, there is often significant external pressure on expectant and new parents – pressure to love pregnancy, be overjoyed while waiting for baby to arrive, immediately bond with baby, transition seamlessly into parenthood, find time for self-care, attend to other children and family members, manage the household, go back to work, and for this balancing act to come naturally while keeping it all together.
The pressure is stressful and overwhelming at best but can be debilitating at worst, so it's vital to pay attention to how you're feeling, especially during a new baby's first year. Perinatal mood and anxiety disorders, or PMADs, can impact anyone regardless of sex, gender identity, education, income, race, and ethnicity. Read more about the five most common PMADs here .
When a new baby enters your life (whether it's your first or you're already seasoned) parents tend to put their own most basic needs on the backburner. Maybe you've found yourself wondering…
When was the last time I had any water?
Does coffee count?
Have I breathed fresh air today?
This packet of cheez-its has protein, right?
It's an ongoing, daily, conscious effort to prioritize yourself after baby so start with the simple things.
Have you eaten today?
Have you had enough to drink?
Have you breathed fresh air today?
Who is in your support network?
Are you sleeping?
Do you have help?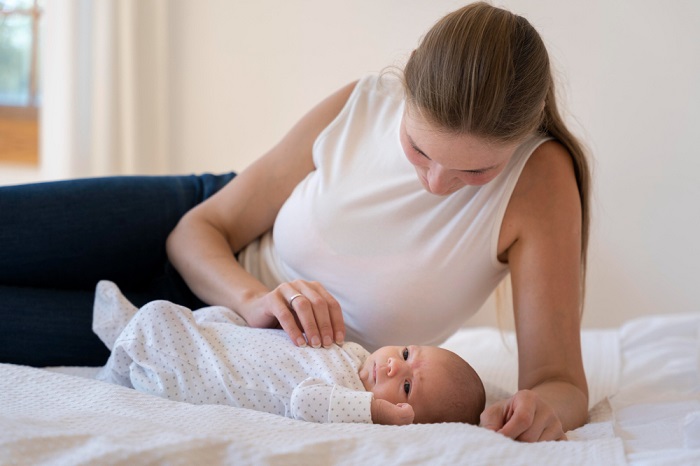 5 Ways to Promote Wellbeing After Baby is Born
1. Eat nutritious meals and snacks, and stay hydrated
Prep and freeze your favorite, most comforting,

and nutritious meals toward the end of pregnancy to have after the baby arrives,

or look into postpartum-specific meal delivery.

Carry a large water bottle even at home as a reminder to drink.

Plan ahead and schedule routine grocery shopping (who will do it and when?) or grocery delivery.

Keep in mind that WIC allows purchases of whole grains, dairy, fruits, and vegetables.
2. Move your body any way you can
Aim for 30 minutes, 3-5 days per week, in any way that feels right for you. Daily exercise can reduce symptoms of depression and anxiety.

Getting fresh air for you and baby can help you get moving, even for a few minutes at first – getting started is key.

Whether you are back on daily jogs or getting your stretch on in bed and working your way up to walking to the mailbox, do what feels right for your body. Listen to yourself and trust your instincts. Make sure you talk to your physician to get the all clear before starting up physical activity after baby.
3. Connect with your people
Lack of social support is linked to decline of wellbeing in the first year postpartum, but having social support is one of the strongest protective factors against postpartum mood and anxiety disorders.

Aim for quality over quantity – a support network doesn't have to be big, it just has to fill your cup.

Engage with your people however works best for you – there's not one right way if you feel supported and fulfilled from the interaction.
4. Sleep
Sleep is a security blanket – getting enough sleep is protective for physical and mental wellbeing and helps you regulate emotions and cope more effectively with stress.

On the other hand, poor sleep is linked to worsening symptoms of depression, mood and anxiety disorders.

Again, aim for quality over quantity here – good but short sleep is better than long but not restful sleep.
5. Accept help
Sometimes just asking for help is the hardest part! If your people are offering help, take them up on it. If you have trouble letting go of the reigns, start small – ask someone to watch baby so you can shower, eat, or get back into a self-care practice you love.
If you were offered help and decline in the past, reach out. That person is probably still happy to help. And remember, just because someone does it differently, doesn't mean it's wrong as long as baby is safe and happy!
Above all, pay attention to your needs. You know best what that looks like for you to feel like your whole self— it's difficult to give to others when you aren't yourself. You know you're taking the best care of your baby; don't forget to take care of you.
Dr. Ellen Kolomeyer is a skilled therapist with specialized training in perinatal mental health. With a breadth of experience, she provides compassionate counseling and therapy to help those struggling with perinatal disorders. She is based in Plantation, FL and provides consultations to clients throughout Florida.